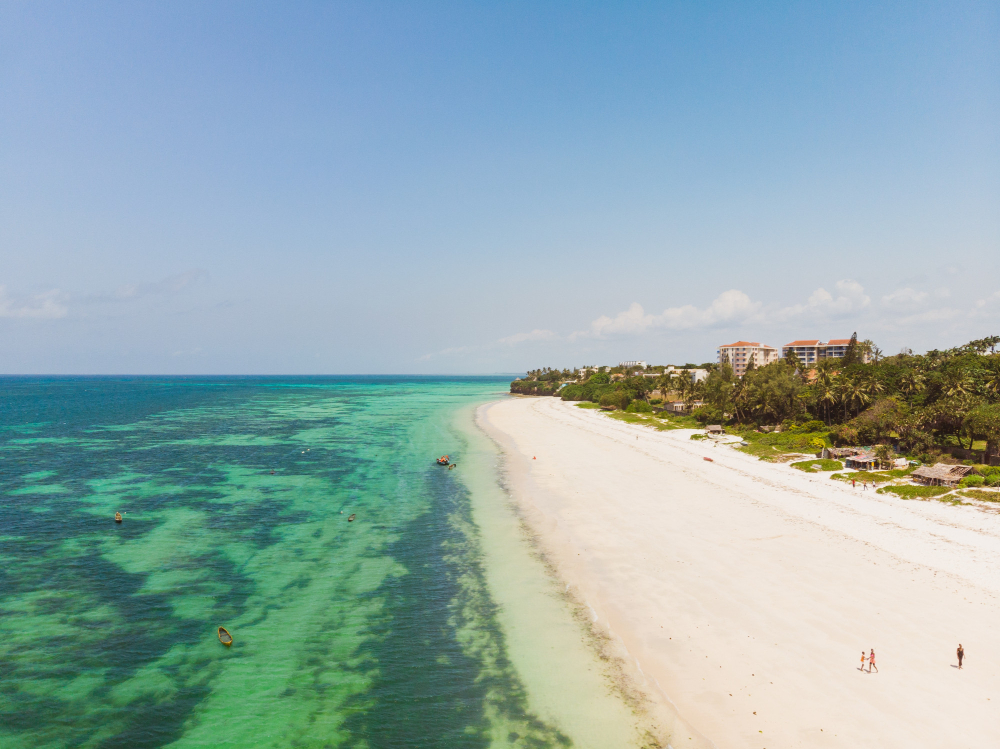 It is the snow-covered peak that is nearly on the equator and in view of arid deserts; it is the Great Rift Valley, which once threatened to split the continent in half, the deep woods that are reminiscent of the continent's core, and the beautiful, palm-lined Indian Ocean shoreline – in short, Kenya is a nation of magnificent landscapes that arouse our deepest longings for this unique continent. You will have a trip of a lifetime if  you come visit the natural wonders of Kenya. Following are 5 of them:
Mount Kenya
The second-highest mountain in Africa is also one of its most stunning. Glaciers sculpt the throne of Ngai, the ancient high god of the Kikuyus, just minutes away from the equator. The tribe still maintains their doors open to the sacred mountain's face, and some members still travel to its lower slopes to make prayers. Mt. Kenya also enjoys the exceptional distinction of being both a Unesco Biosphere Reserve and a Unesco World Heritage Site.
Lake Turkana
Lake Turkana shimmers like a green and turquoise mirage amid the arid and horizonless expanses that make up much of Kenya's north. One of the world's most perfectly shaped volcanic cones, Teleki, rises from its waters, and the shores are dotted with dusty and truly fascinating villages, like Loyangalani, which are home to the alluring mixture of traditional peoples, including Turkana, Samburu, Gabbra, and El-Molo, who live in this remote region of Africa. Crocodiles are also present here. Numerous of them.
Kakamega Forest National Reserve
The Kakamega Forest is laced with paths that provide a rare opportunity to leave the safari 4WD and get some exercise. 330 different bird species, 400 distinct butterfly species, and 7 different monkey species can all be found in this ancient woodland. In contrast to other rainforests, this one is mostly known for its trees, and among them you'll find the botanical counterpart of beauty and the beast in the form of exquisite orchids and parasitic figs that strangle their hosts as they ascend to the light.
Masai Mara
Most likely, if you dream of Africa, you will visualise the Masai Mara. The epitome of an African cliché, this vast area of gently sloping grassland is dotted with flat-topped acacia trees and trampled by enormous herds of zebras and wildebeest. However, for once, reality matches perception, and for many visitors, the Masai Mara—which includes not only the well-known reserve but also a number of Maasai villages, a dozen community conservancies, and a number of group ranches—is not only the high point of their trip to Kenya but also the main reason they arrived in the first place.
Kisite Marine National Waterpark
One of the best marine parks in Kenya is located off the coast of Wasini and includes the Mpunguti Marine National Reserve as well as the two tiny Penguti Islands. The 11 square mile park features virgin coral reefs and offers diving and snorkelling with vibrant scenery and regular dolphin and turtle sightings. By dhow cruise from Diani Beach or by private boat rented in Wasini, visitors can reach the marine park. (per person from KSh2500 to KSh3000).
Between October and March is the ideal season to go diving and snorkelling. Although the weather is unpredictable, diving and snorkelling in June, July, and August may result in reduced visibility and rougher seas. You may snorkel over the coral gardens when it rains.