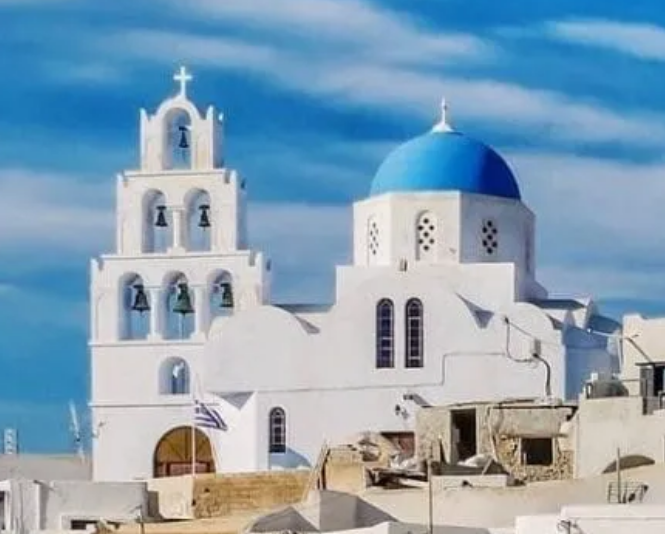 Santorini, a Greek island nestled in the Aegean Sea, is renowned for its breathtaking sunsets, crystal-clear waters, and picturesque villages perched on volcanic cliffs. This Mediterranean gem offers an array of accommodations, ranging from luxury resorts to cozy boutique hotels, making it a perfect destination for travelers seeking a unique and memorable stay. In this article, we'll explore some of the best places to stay in Santorini, ensuring that your visit to this idyllic island is truly unforgettable.
Oia – The Jewel of Santorini:
Oia, a postcard-worthy village, is perched on the northern tip of Santorini and is famous for its mesmerizing sunsets. Here, you'll find numerous luxury accommodations such as the Canaves Oia Suites. These stunning suites are carved into the cliffside and offer private terraces with panoramic views of the caldera. Oia also boasts charming boutique hotels like the Mystique, where you can savor Greek cuisine and unwind in a serene atmosphere.
Fira – The Island's Capital:
Fira is the island's capital and a bustling hub of activity, perfect for those who want to be in the center of the action. You can choose from a variety of hotels and resorts here, like the Aria Suites, a luxury boutique hotel with an infinity pool and stunning views of the caldera. For a more budget-friendly option, the Kavalari Hotel offers comfortable rooms in a traditional Cycladic style, all within walking distance of the town's shops and restaurants.
Imerovigli – The Quiet Retreat:
Imerovigli, often referred to as the "Balcony of the Aegean," offers tranquility and awe-inspiring views. Consider staying at the Grace Santorini, a luxury boutique hotel renowned for its stunning infinity pool and impeccable service. For a more budget-friendly option, the Agnadema Apartments provide comfortable accommodations with easy access to hiking trails and the island's main attractions.
Kamari – The Beach Paradise:
If you're looking for a beachfront stay, Kamari is the place to be. The Kamari Beach Hotel is a top choice, offering direct access to the black sand beach and a variety of water sports. The village also has numerous budget-friendly options, such as the Sellada Beach Hotel, providing comfortable rooms and a relaxing atmosphere.
Perissa – Relax in Black Sand Beauty:
Another fantastic beach destination is Perissa, famous for its volcanic black sand. The Aqua Blue Hotel offers spacious rooms with private balconies and is situated just a stone's throw from the beach. For travelers seeking a more authentic experience, the Smaragdi Hotel provides cozy accommodations in a quiet setting, while still being close to the action.
Pyrgos – A Charming Hillside Village:
For those who want to immerse themselves in Santorini's local culture, Pyrgos is an excellent choice. The Demeter Cave House is a fantastic option, offering a unique and authentic experience. This traditional cave house is beautifully restored and provides a cozy, cave-like atmosphere. It's located in the heart of Pyrgos and offers easy access to the village's historic center, where you can explore narrow winding streets and picturesque white-washed buildings. Pyrgos is known for its panoramic views, and staying at the Demeter Cave House allows you to soak in the stunning vistas of the island while enjoying the tranquility of this charming hillside village. 
Akrotiri – The Historical Hideaway:
Akrotiri is a quieter, historically rich area where you can explore ancient ruins and enjoy secluded beaches. The Astarte Suites is a luxurious cliffside hotel with private plunge pools, providing a serene escape from the tourist crowds. For a more budget-conscious option, the Hotel Mathios Village offers cozy accommodations and is conveniently located near the ancient Minoan city of Akrotiri.
Megalochori – A Quaint Wine Village:
Megalochori is a charming village with a traditional Greek atmosphere, known for its vineyards and wineries. Check out listings on Airbnb for some great value authentic accommodations.
Santorini's diverse range of accommodations caters to all types of travelers, from those seeking ultimate luxury to budget-conscious adventurers. Whether you prefer a romantic clifftop retreat in Oia, a beachfront paradise in Kamari, or a tranquil stay in a traditional village, Santorini offers an array of unique and unforgettable places to call home during your stay. With its stunning vistas, rich history, and warm Greek hospitality, this enchanting island promises a vacation like no other.